At Talent Plus ®, we recognize that people make the difference. Our Talent Spotlight ® series highlights our colleagues because we know they're so much more than just their job description.
Today's Talent Spotlight features Ashley Pavlik, Talent Plus Senior Manager of Solution Development. Let's learn more about Ashley and what she's looking forward to accomplishing in her new role. 
---
Q: What are your biggest goals in your new role as Senior Manager of Solution Development? 
A: I want to get my Product Development Certification. 
Q: Are there any upcoming projects that you are excited about?  
A: I'm really excited about an upcoming TalentBank teams project. This project will give all of our managers the ability to view all of their teams, access to talent grids, coaching recommendations, and also the ability to see what they can expect from their team. They'll be able to see a talent grid, their team group average as well as their team talent rosters. 
Q: What do you love about working at Talent Plus?   
A: I love that Talent Plus focuses on learning and career development. In my nearly five years working here, I've never heard the word "no" when asking to develop a skill or learn something new. There is also so much growth potential here. I've been promoted three times while working at Talent Plus.
Q: What are some items on your bucket list? 
A: I want to buy an RV and renovate it. I also want to eventually renovate more houses for fun, as my husband and I have already renovated two. Finally, I would love to travel to Italy. 
---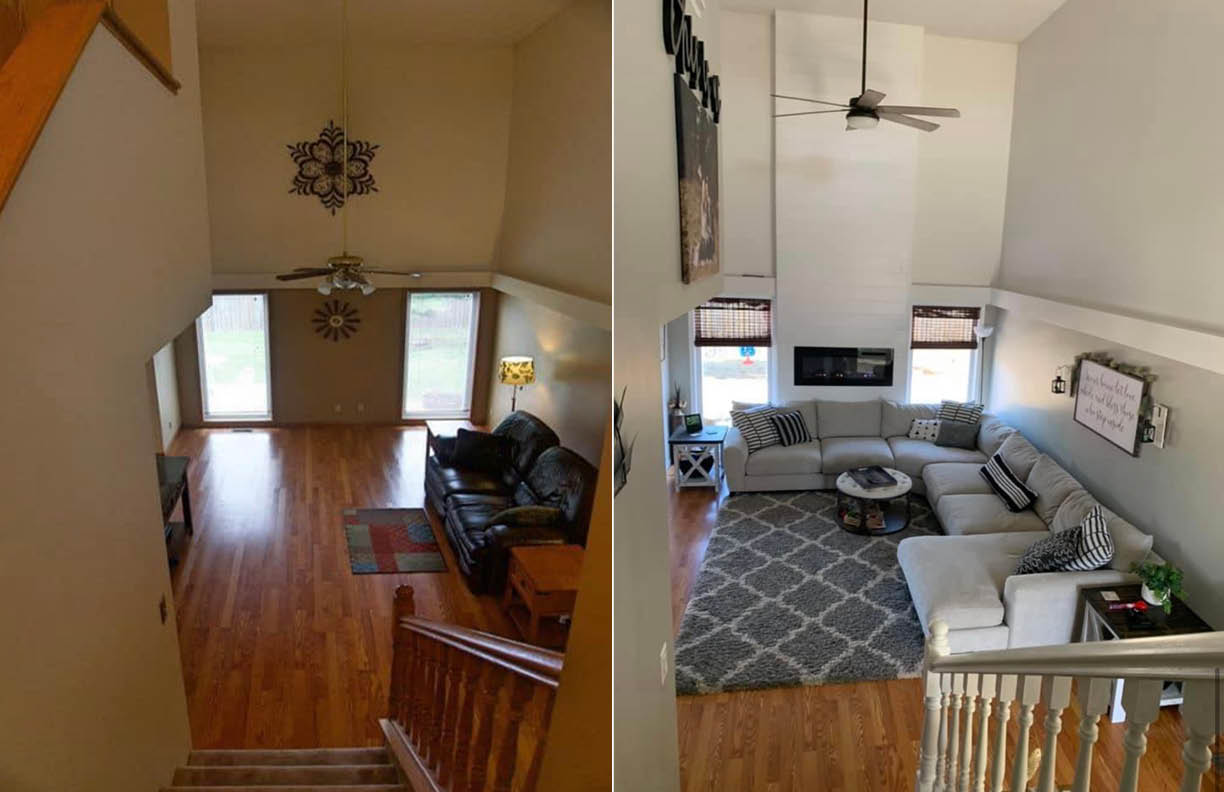 (Before and after pictures of Ashley's home renovation.)                                                                                                       
---
Q: If you could choose to do anything for a day, what would it be?   
A: I would love to sit on a beach and drink margaritas!  
Q: What three items would you take with you on a deserted island?  
A: Sunscreen because I'm super fair-skinned, a hammock for relaxing and a flashlight because I'm terrified of the dark!
Q: If you could compete in the Olympics in any sport, what sport would it be?  
A: Probably volleyball because I played all through high school and then through college.  
Q: What animal would you describe yourself as? 
A: I would say a wolf because I work well and thrive in team settings. I am also loyal to those around me and never give up. 
Q: What's phone app you use the most?   
A: Facebook
Q: If you could go back in time, what year would you travel to?   
A: 2014 because that's the year I graduated college and had the opportunity to start my first full-time job! 
Q: Marvel or DC?  
A: Marvel 
Q: Mountains or Beach?   
A: Beach  
Q: Cats or Dogs?   
A: Dogs 
Q: Apple or Android?   
A: Apple 
Q: Dine-In or Delivery?   
A: Dine-In 
Q: Coke or Pepsi?  
Q: Pepsi  
Q: Vine or TikTok 
A: TikTok 
Q: Summer or Winter?   
A: Winter 
Q: Iced Coffee or Hot Coffee?  
A: Iced Coffee