2020 is a hot mess. I said it. I'm not afraid of it. On a rainy, dreary Saturday I took the time to reflect on the year. It turns out that 2020 was (and continues to be) a hot mess that I could not be more grateful for. I am eternally thankful for the reset buttons that 2020 has presented to me.  
My first reset button was running. Literally and figuratively. Literally in the sense that when we went on lockdown, I immediately started running. For the first time in my life, feeling incompetent and slow, I got my butt off the couch and trekked outside. Seven months later and I now run a cool three-ish miles a day, just as easily as I can lay on the couch watching an all-day marathon of Hallmark Christmas movies. I now say crazy, truth-telling sentences like, "I can't get carryout Chipotle with you tonight, tomorrow is my long run day."   
Figuratively in the sense that the cabin fever kicked my Tasmanian-devil productivity into ludicrous speed. I read 20+ books, conducted the most epic closet cleaning of my life, took a project management class, became a writer, drank through countless virtual happy hours, got a ridiculously remarkable new job with Talent Plus, started budgeting, and so on. In my reading, I came across some research on the types of people less likely to be fazed by the pandemic. One type was called the "future-positive," where one redirects their negative mental energy into positive pursuits. I relate to this. For better or worse, my body and mind became nauseatingly, high-functioning machines. 
My second reset button was pausing. Taking a snotty-elite, Delta Platinum Medallion Sky Miles member and telling her she cannot fly is totally unacceptable. At first it felt like handcuffs. My suitcase collected dust. My cats were happy, but the fur mom was jittery. Suddenly, being stuck at home became the best feeling. The sereneness of home. The peace of quiet time. The calm of sitting still. The calm of being still. I gained a back-to-basics appreciation of my living space, my town, my thoughts. I felt best when I was being patient, extending grace to others, and not expecting immediate change. It was like growth mindset was sneaking into my previously-resistant existence.  
My third and final reset button was surrendering. Surrendering to the suck. Giving up control to the fact that I, alone, cannot halt a pandemic. Letting go of the windfall of bad and accepting the fact that going to buy that new mascara doesn't qualify as an "essential shopping trip." That feeling angry doesn't help. That complaining doesn't help. I started to celebrate the small wins, like my local grocery store finally restocking my favorite pasta. I started seeking out good news stories, which felt like discovering a four-leaf clover in the garden I do not have. It changed my attitude and made it much more tolerable to tolerate myself. 
Finding the good in the disaster of 2020 was a worthwhile exercise for me. I encourage you to take the time to reflect. Find a gross weather day and take an hour or so, in your best comfy pajamas and fuzzy slippers, to reflect on the good that the hot mess of 2020 has brought you. Not sure where to start? Check out this link for some ideas.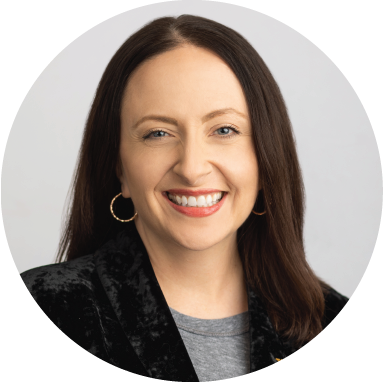 Megan Leasher is an award-winning industrial and organizational psychologist who balances her nerdiness with wit, charm, and creative swear words. She is passionate about connecting challenge and compassion, insights and intuition, and faith and fearlessness into the design of talent-based solutions for individuals and organizations.
Currently, Megan serves as the Chief Solutions Strategist for Talent Plus, a global HR-solutions firm whose mission is to leverage science to help people and organizations discover and develop talent, creating a world where people do what they are good at and enjoy. She also serves as an executive coach, avid public speaker, and has held leadership roles in both corporate healthcare and Fortune 250 retail.
Megan lives in northern Kentucky, where she loves coffee, Converse Chuck Taylors, and being a bourbon snob.