Hospitals are seeking solutions to improve their HCAHPS scores through a variety of ways – all of which can have a positive impact on an organization's scores but fail to impact patient care. Talent Plus ® offers tools to select the right people to improve patient care and yield great results.
Talent Plus' most integrated health care clients scored above the national average for "overall hospital rating" on the HCAHPS survey in consecutive years. As a result of selecting for talent, our clients onboard people with the natural propensity to excel at patient care.
Additionally, on the HCAHPS question that assesses, "Are you likely to recommend this hospital," Talent Plus' clients outpaced improvement of the national average by a full 2.5 percentage points, even outperforming their own record of 1.7% above the national average set the previous year.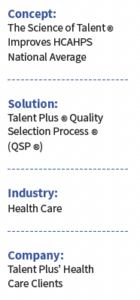 Overall Hospital Rating

Patients Likely to Recommend Hospital