When I was 16, I traveled abroad for the first time. I went to Spain on a high school trip with our Spanish teacher and a small group of fellow Spanish classmates. At the end of the trip, we explored the Costa del Sol. Breezy beaches, unpronounceable food, and…oh my goodness, the SHOES! There were shoe stores everywhere. Not stores full of predictable, stifling American shoes. No. These were exotic, life-altering Spanish shoes. It's when I saw THEM. Black and ivory patent, block-heeled slingback sneakers. Nothing about them made sense. Everything about them made my entire existence light up in a way I could not articulate at the time. It was completely unfamiliar. They were created to be mine. 
Upon returning to the States and curating countless, flawless outfits to showcase my new Spanish kicks, I uncovered something about myself. These shoes made me feel like I was accurately, outwardly expressing how I felt on the inside. Fashion-fearless, daring, and eclectic, these shoes finally showed the world around me that these were iconic facets of my true identity. I finally had the vessel to communicate my previously hidden truths. The shoes gave me voice. I amplified the outside to match the inside.
At Talent Plus, the incredible value we offer our clients has multiplied exponentially over the past 30 years. As a result, it's now time for us to amplify the outside to match the inside. Allow us to introduce you to REAL.
We know we make the greatest impact when we put our natural talents to work.  That's why Talent Plus is on a mission to transform organizations into Talent-Based Organizations®; ones that leverage the natural talents of people to make the greatest individual and organizational impact. Our REAL approach to Talent-Based Organizations® does just that. By helping our clients Recognize, Engage, Accelerate, and Lead, they unleash the power and fury of inconceivable impact.
---
Principles of Talent-Based Organizations®: 
Recognize
When we help organizations identify the natural talents of their people and leverage these talents for impactful decision-making, we create a world where people do what they are good at and enjoy. Through solutions like Talent Online Assessments, Person-to-Person interviews, Fit Guides, and more, we make this world come to life. In the shoe world, our Recognize principle is the equivalent of finding the perfect pair of tap shoes that enable you to spring into the graceful, exquisite, Gene Kelly rendition of "Singing in the Rain."
Engage
Captivating individuals by fostering relationships, fun, and a positive culture empower employees to live their best work lives. We pursue this with perspective-seeking solutions like CultureView, ExitView, and more. When we understand what is happening inside organizations, we establish building blocks to make the experience better. The principle of Engage is the neon fuzzy slippers you need for family movie night in front of the fireplace. They exude the warmth and bubbliness your family is all about. They are the experience.
Accelerate 
We have an unquenchable thirst for growth, performance, and maximizing potential. Our individual, team, and organizational offerings help satisfy this thirst with solutions like Leadership 360°, Team Days, TalentMine, and so many more. When I think of Accelerate, I think of the proper pair of running shoes for my tiny feet; the ones I had fitted by professionals at a local running store. These shoes enabled me to shave considerable time off my pace in my first 5k. 
Lead
Strong leadership sets the example and tone for turning vision into victory.  Through our suite of solutions like Executive Coaching, Leadership Toolbox, and Executive Assessments, we create and develop leadership role models for future leaders to aspire to. Our Lead principle is like your first pair of pointy toed, black leather, three-inch stiletto pumps that make you feel confident in all of your decision-making prowess, while simultaneously triggering occasional fear you might (literally or figuratively) fall on your face. And, if not, enable you to take a bow for a tremendous performance.
---
We are eager to reveal more about our REAL approach to Talent-Based Organizations® and how it spotlights the impact of natural talents.  In the meantime, I might need to build another shoe closet…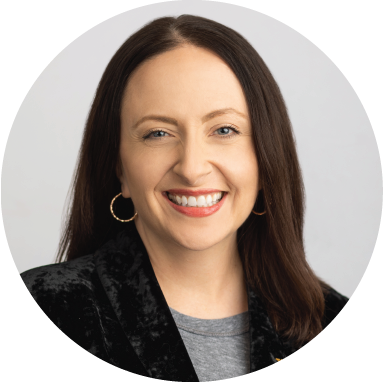 Megan Leasher is an award-winning industrial and organizational psychologist who balances her nerdiness with wit, charm, and creative swear words. She is passionate about connecting challenge and compassion, insights and intuition, and faith and fearlessness into the design of talent-based solutions for individuals and organizations.
Currently, Megan serves as the Chief Solutions Strategist for Talent Plus, a global HR-solutions firm whose mission is to leverage science to help people and organizations discover and develop talent, creating a world where people do what they are good at and enjoy. She also serves as an executive coach, avid public speaker, and has held leadership roles in both corporate healthcare and Fortune 250 retail.
Megan lives in northern Kentucky, where she loves coffee, Converse Chuck Taylors, and being a bourbon snob.