I love this time of year. It's busy, for sure. Holiday events, school, and community programs, family gatherings. But it's also a time to reflect and replenish, to notice the pull of the future and the possibility of better years to come. Even though January 1 is really just another day, there's something hopeful about a brand new calendar.
Talent is Timeless
At times during the past few years, it felt like time didn't exist. Now it can feel like we're moving faster than ever. We've faced many challenges — global economic factors, inflation, a pandemic. And the start of a new year doesn't mean those will go away.
But what I've learned is that as a natural, reliable part of who we are, talent is timeless — it's something we can depend on. I'm staying focused on who Talent Plus is as a company and making an impact in our world, despite and because of those challenges.
My Top Predictions for 2023
Engagement
As I look ahead, I foresee organizations moving beyond recruitment and retention to engagement. Leaders will need to think about growth plans for individuals, ensuring every employee becomes a leader in their own right.
Human Leadership
Even more so, we need to reinvest in authentic and caring leadership, using empathy, compassion and kindness to lead. If COVID-19 has taught us anything, it's that we have to work with each other as humans with unique and differing needs. And we can't rely on the same ways of showing support that we used to.
Leveraging Data
COVID also brought more technology into our lives. But we can't just have it for its own sake. We have to leverage the right kind of tech that will move our businesses forward. Knowing what type of data is important for our organizations and using it effectively will also need to be our focus going forward.
What I'm Committing To
For the new year, I'm doubling down as a leader. I'm recommitting to innovation and keeping science at the heart of everything we do. And, more importantly, I'm recommitting to people — prioritizing relationships with colleagues and client partners.
What I'm Most Looking Forward To
We can't fully anticipate what the future will bring, but we can focus on our strengths and our sphere of influence. We can choose to be forward-thinking and solution-oriented. I'm especially excited about our upcoming launch of Talent+Ready. We're thrilled about how it will help our clients with leadership planning and talent optimization.
On a personal note, I'm eager to make more time in the coming year for my family as our little ones grow. I want to create more memories through travel and living an even healthier lifestyle together.
Cheers to talent, to the science that maximizes it, and to a new year of possibilities!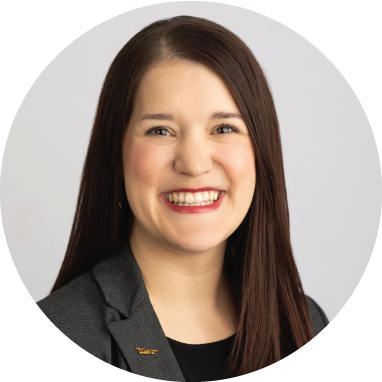 Makenzie is the President of Talent Plus where each day, she leads with a focus on our mission, "We know every person has talent." Through supporting and partnering with our colleagues and client partners, Talent Plus works to create a world where people do what they are good at and enjoy.
"Talent Plus is positioned for unprecedented success and growth because we have the premier science in the industry alongside extraordinary colleagues."
Talents: Focus, Intelligence, Individualized Approach, Conceptualization, Persuasion