Talent Plus ® attended the 2019 Patient Experience Conference by The Beryl Institute. This series takes a closer look at challenges healthcare professionals face today and conference takeaways.
Two years ago, the Academic Medical Center, Froedtert Hospital realized how engaging staff results in extraordinary changes in the patient experience.  
Aamer Ahmed, Director of Patient Experience at Froedtert & The Medical College of Wisconsin, and Lisa Hare, Manager of Performance Excellence Support Services at Froedtert Health, presented the scenario they faced and the solutions they implemented. 

Where They Started 
Leaders had to address why annual CG CAHPS goals were not being met. They identified three core areas of improvement: staff and physician engagement, competing priorities and alignment to purpose. 
Ahmed and Hare highlighted the questions that they set out to answer:
Does our infrastructure align with patient-centered care?
If we put the patient at the center of healthcare what would our internal team look like?

Improving teamwork is necessary to fix a system that is most often described as disjointed and siloed, notes Ahmed. "The human element has to be injected into that work as well." Together, they developed a 60-day rapid improvement model to chip away at the issues and improve the patient experience. The model allows for four weeks of observing and gathering data analysis in order to understand where the issues began. Afterward, one week is meted out to debrief, find opportunities and make a plan of action, which was then implemented immediately.  

60-Day Rapid Improvement Timeline 
Data analysis by specialty, comment analysis, literature review on interventions.
Shadow patients, faculty, APPs and clinic staff. Staff and providers given real-time feedback as well as an email summary. 
Review opportunities and develop interventions during a 2- to 4-hour work session. 
Deploy and sustain action plan.  

The Results 
Focusing on frontline staff in the Root-Cause and Improve phases of the process and making those stages highly engaging using a Kaizen action plan, This plan asks 5 questions:
What is the current process?
What is working?
What needs to change?
What can we trial?
What is the impact?
Ahmed ensured several key results: 
Most importantly, frontline voices were heard. A sense of togetherness was established between teams. Connections forged aided in professional development. Finally, staff and providers could see the change happening in real-time. As of Q1 of 2019, their CGCAHPS overall provider ranking rates in the 90th percentile.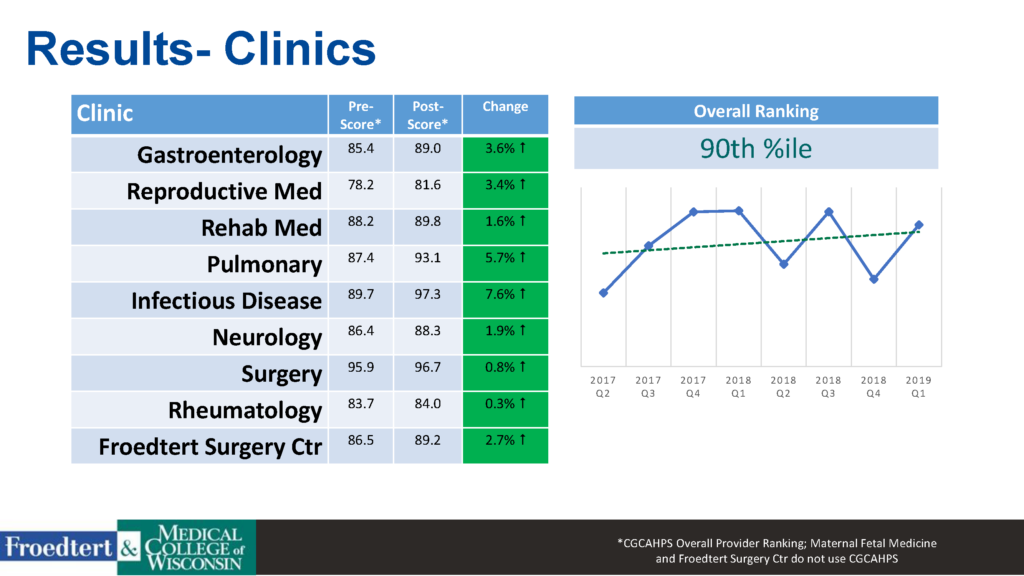 The Company You Keep 
It takes an engaged team made up of complementing talents to be a top-performing unit. While the vision to create a patient-centered hospital was instrumental, exceptionally talented people on the ground at Froedtert Hospital are who carried out the goals.   

Questions to Consider 
If your healthcare organization is looking to make a strategic change in the next year, ask yourself: How capable are you, your co-workers or people you manage of creating significant change? What would your organization look like if everyone excelled in their job because they had the natural talent for the specific role for which they were selected? 

Test Drive Our Science 
Our job-specific, predictive behavioral assessments are backed with rigorous research. Need proof? Take our science for a test drive and request to take one of our assessments today. 
—Nia Nielsen attended the Beryl Patient Experience Conference in Dallas, Texas, April 2019. Nielsen is a brand strategist at Talent Plus.