It seems like I was just putting up a new calendar and enjoying time with family over the holidays . . . and now it's March! The blur of these first weeks of 2023 reminds me that life is moving swiftly. Even so, I keep telling myself that talent is outside of that flow. In fact, talent is timeless. And we need to recognize it every chance we get, especially for women.
No matter how slow life became during the last few years or how fast it's moving now, the things we depend on — what each of us brings to our families, workplaces and communities — are our gifts, skills and strengths. Our talents.
We have an opportunity to show the women in our lives — our family, employees, colleagues, friends and clients — just how much their talents mean to us and our organizations, not only in March, but year-round.
International Women's Day is March 8
Everyone has talent. Talent transcends every aspect of who we are — sex, gender, age, religion and more. In fact, it may be our world's greatest equalizer. But that doesn't mean who we are doesn't matter.
I have two daughters, and I want them to grow up in a world where they see limitless possibilities for themselves. I want them to know that their kindness, their drive, their efforts, their critical thinking and their talents will take them as far as they want to go in life.
And I want them to remember that none of us go anywhere without the support of other people. Positive regard for those around us is vital.
Embrace Equity
The theme for this year's International Women's Day is #EmbraceEquity.
Why the word equity? Because "equality means each individual or group of people is given the same resources or opportunities. Equity recognizes that each person has different circumstances, and allocates the exact resources and opportunities needed to reach an equal outcome."
Equity In Action
We know that the sudden pivots we had to make in the past few years hit women especially hard. Organizations need to recognize that as we emerge from the crisis, women may need different forms of appreciation and resources to flourish again in the workplace. International Women's Day gives leaders the opportunity to think more intentionally about what those resources might be.
This day also offers those of us women in the workforce the chance to check in with ourselves, take a deep breath and give ourselves the appreciation every person is worthy of.
Care For Yourself
Many women tend to put others' needs before their own both at home and at work. At the same time, many women (myself included!) have experienced a time when someone didn't believe in them, made assumptions about them or downplayed their concerns.
March 8 is as good a time as any to remember it's not only okay but also essential to listen to our own bodies, practice self-care and self-compassion, know that our needs are valid, ask for the support we need and advocate for our wants and desires.
When it comes to your work life, it's okay if you don't know what you need or want to do in the future. Lean towards and learn more about opportunities that interest you. Then, be willing to listen and improve.
Care For Others
In turn, leaders can appreciate all of their employees — women included — by recognizing the talents they bring to the workplace.
If you want to be a strong leader, ensure you have regular time with all employees — something actually on the calendar. Listen to them. Give them your full attention. Ask them questions about themselves.
Then, be intentional about the appreciation and recognition you provide. We're all stronger for it. This intentional recognition helps to engage and retain talented employees in the long run.
Practice Positive Regard
Remember the famous quote, "Be nice to everyone on the way up; you'll meet the same people on the way down."
Now that we're back in the swing of busyness, it's more important than ever for women to practice good self-care and for leaders everywhere to advocate for their employees and spend the most time with their top performers.
Who knows? Maybe during those conversations, you'll be able to identify and develop your organization's next great leader.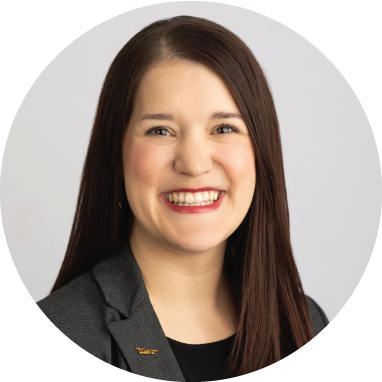 Makenzie is the President of Talent Plus where each day, she leads with a focus on our mission, "We know every person has talent." Through supporting and partnering with our colleagues and client partners, Talent Plus works to create a world where people do what they are good at and enjoy.
"Talent Plus is positioned for unprecedented success and growth because we have the premier science in the industry alongside extraordinary colleagues."
Talents: Focus, Intelligence, Individualized Approach, Conceptualization, Persuasion