Companies are defined by their people; the people who embody the mission, vision, and values of the organization. Losing great people hurts, and many organizations are trying to understand how to retain great people. Talent Plus builds predictive assessments designed to help credit unions find people who consistently achieve the highest standards, train well, are liked by coworkers and leaders, and who organizations wish they could find more of and replicate. Credit unions and other clients who commit to becoming Talent-Based Organizations see decreased turnover and an increase in employee engagement and performance. In this post, I will provide an example of a credit union that has committed to becoming a Talent-Based Organization and, as a result, has had a significant decrease in turnover.  
Let's Talk Turnover
Credit unions invest significant amounts of time and resources to train, develop and retain employees. According to the Bureau of Labor Statistics (2020), the median tenure of employees is approximately 4.1 years. A study conducted by Boushey and Glynn (2012) found that on average, turnover costs approximately 21 percent of an employee's annual salary. According to Sydney Mathis (2006), the average cost for a credit union specifically is approximately $12,300 for each open position. Turnover costs for credit unions in Texas, Oklahoma and Arkansas combined surpassed $68 million in 2013 according to the Cornerstone Credit Union League (SIGNiX, 2015). These statistics suggest that employees are not staying for significant amounts of time on average, and when these employees leave, credit unions are having to invest large amounts of money to replace and retrain the next cohort of employees.  It is because of these financial and time burdens that employers have tried to find the top reasons employees are likely to leave. 
The Real Reason Employees Leave
Rubenstein, Eberly, Lee, and Mitchell (2017) conducted a very thorough meta-analysis understanding the common reasons for voluntary turnover. According to the authors, the most meaningful predictors include employee performance, fit in the organization and leadership, engagement/job satisfaction and organizational commitment. These are areas that are heavily influenced by talent, and it is for this reason that clients who commit to becoming a Talent-Based Organization have incredibly long-term outcomes when it comes to turnover. 
The Impact of Hiring Top Talent at Credit Unions 
At Talent Plus, we have always believed that clients who insist on  
a. holding out for top talent,  
b. fitting talent into their culture by placing employees in positions that allow them to express their very best talents, and  
c. investing in that top talent through individualized relationships, recognition, training, and resources that you see employee and organizational growth. 
A study was conducted with a well-respected financial institution that Talent Plus has partnered with for well over a decade. The goal of the study was to analyze how turnover and its costs have changed throughout the partnership. Here are the results visualized: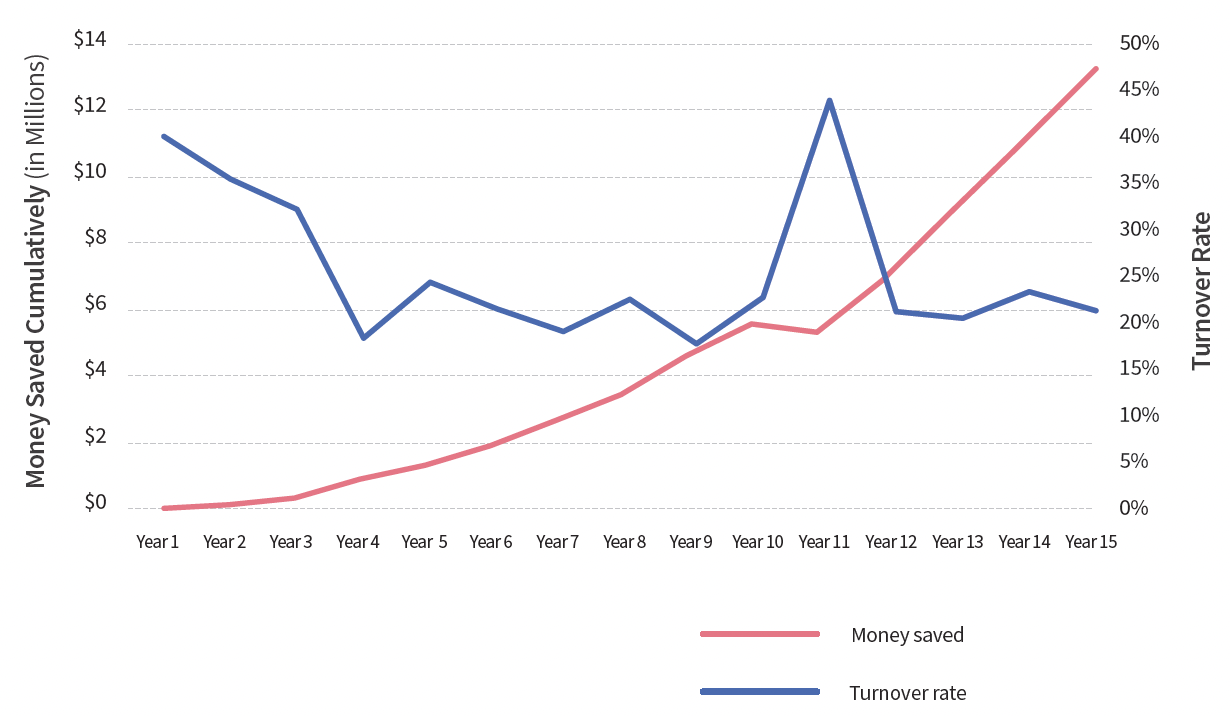 This client started the partnership with a 39.4 percent turnover rate, a lot of which was voluntary turnover of their very best. Over the course of the partnership, the client's turnover has dramatically decreased to a steady 21 percent, 17 percent lower than the average across all industries according to a study conducted by the ADP Research Institute (Yildirmaz, Ryan, & Nezaj, 2019). This has resulted in the organization saving roughly $13.1 million in turnover costs.   
By selecting for talent, and finding employees who fit with the culture of the organization, this credit union was able to save millions of dollars, which they can invest back in their own business. Another important finding was that the number of full-time employees grew by 13.9 percent, members increased by 15 percent, and assets grew by 20 percent. In other words, over the partnership, this credit union relied less on part-time help and increased their full-time employment, selected talented employees who provided an incredible service — meaning customers continue coming back — and this attraction of new and continued customers leads to an increase in assets and income.  
How is all of this possible? This client has done more than just come to Talent Plus asking for advice or an assessment to give to their applicants. This organization has fully assimilated the Science of Human Potentiality. They have committed to becoming a Talent-Based Organization and have lived out the growth formula to maximize positive outcomes in their employees and the organization.  
This is the power of Talent.
To learn more about our work with Credit Unions, visit https://go.talentplus.com/WeKnowCreditUnions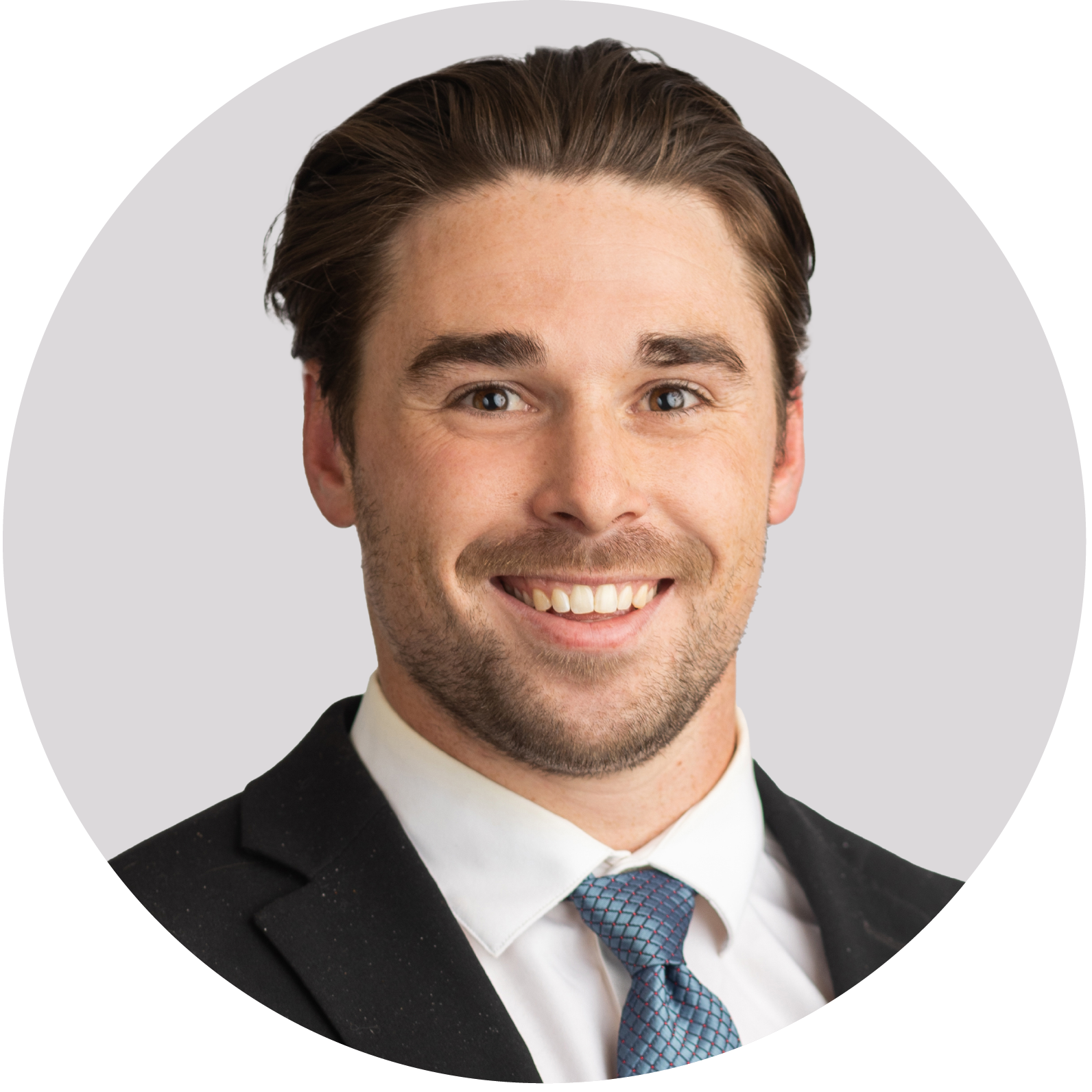 Jonah Garbin is a Research Scientist at Talent Plus, where his role is to expand The Science of Talent® and illustrate how Talent helps organizations grow through data analytic investigations of performance metrics.
"I push clients in how they envision and characterize top performers in a way they've never fully thought about, and showcase why talent is at the heart of it." — Jonah Garbin
Talents: Relationship, Ego Drive, Intelligence, Focus, Persuasion